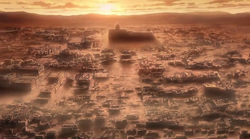 Republic of Krugis (クルジス共和国, Kurujisu Kyouwakoku) is a fictional country in the anime, Mobile Suit Gundam 00. Krugis was a small country in the Middle East that was destroyed due to the persisting conflicts in the region. Before its destruction, it was one of the countries hit hard by the sanctions that the World Nations put against oil exports. Due to the ailing situation of the country, it became a nest for terrorist groups and guerrillas who fought against the country and the world policies. The KPSA was one of the terrorist groups that sprouted during the conflicts. Eventually, a war between Krugis and Kingdom of Azadistan broke out in the middle of turmoil, and in A.D. 2301, the country was defeated and was absorbed into Azadistan.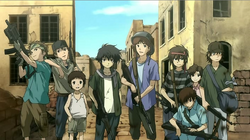 The KPSA is one of the terrorist groups founded in Republic of Krugis by mercenary Ali al-Saachez. Ali gathered a group of children and brainwashed them into fighting a holy war in the name of God. These children would function as guerrilla units, focusing on hit-and-run tactics and terror tactics through suicide bombing. The group participated in the Azadistan-Krugis War, with them eventually wiped out in the ending days of the war. Only the child soldier, Soran Ibrahim (a.k.a Setsuna F. Seiei), was the lone survivor of the group, as he was rescued by one of the Celestial Being's secret intervention.
Community content is available under
CC-BY-SA
unless otherwise noted.